Frank & Sandra Miccio
New Home Builders Corowa, Wangaratta, Yarrawonga and surrounds
If you want your dream home to become a reality, trust Frank and Sandra Miccio to make it happen.
Frank and Sandra Miccio have over 20 years' experience in the building industry, and service Corowa and the surrounding areas, such as Wangaratta, Rutherglen, Yarrawonga, Wahgunyah and Myrtleford. With a wide range of house and land packages to choose from, Frank, Sandra and the team also have over 90 stunning floor plans to choose from, which can also be tailored
( more )
Contact Details
Phone


1800 677 156

Enquire Today
Click Here
Address
Shop 2, 21 Sanger Street, Corowa NSW 2646
(see map)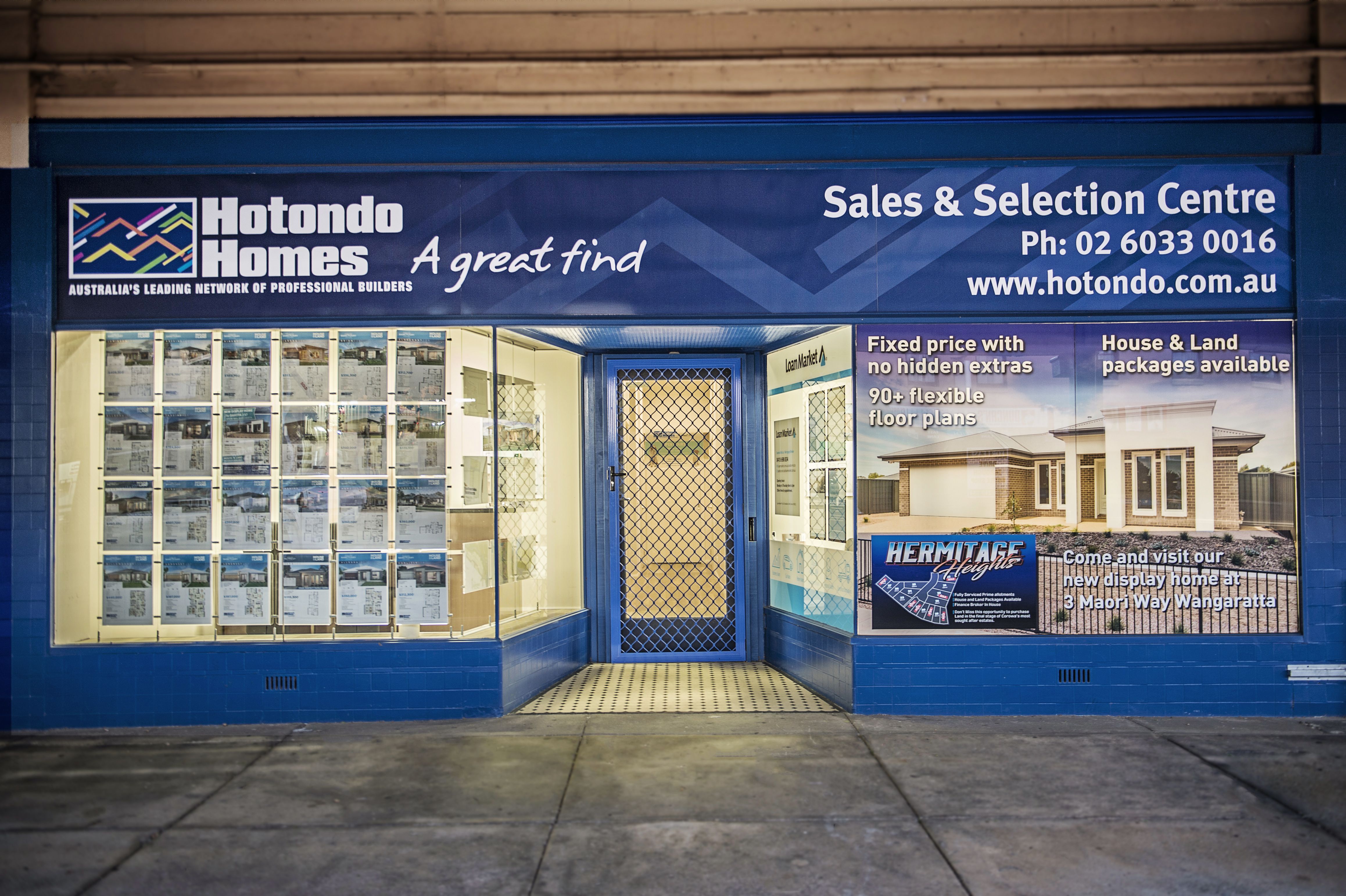 Credentials
Service Region:
New Home Builders Corowa, Wangaratta, Yarrawonga and surrounds
Company Name:
F & S Miccio Pty Ltd
Reg. Building name:
F & S Miccio Pty Ltd   
Company Reg. no:
CDB-U 50067

ABN:
36 097 183 376

Licence:
NSW: 129094C VIC: DB-U 10766
Newsletter
Testimonials
"My experience with Hotondo Homes in Corowa has been exceptional. Everything went so smoothly with no real issues during the build. The quality and service has been great."
Sue
"Our sincere thanks to Sandra, Frank and their team for guiding us through the building process. Their professional approach, knowledge and genuine endeavour in building not just a house but our home created a very friendly relationship. Continual updates kept us informed at all stages of construction. We valued being encouraged to visit on-site whenever we wanted. A warm welcome by tradesmen and seeing first-hand their skill gave us confidence decisions made were correct and our home was going to be very special. We are delighted with the result and now enjoy living in our beautiful Hotondo Home. We felt part of and thoroughly enjoyed the process of building our home with Hotondo Homes in Corowa. "
Playford
"Frank and Sandra Miccio provided a professional, courteous and very efficient service in the planning and building of my home. I was living 6 hours away during the build, so to assist with progress, they provided updates and photos at different stages via email. On my visits to the site I could see the quality of the build was to a high standard and progressing very nicely and to plan. During the build I requested a couple of variances which were never an issue. In fact, Frank provided additional advice to assist. I am extremely happy with the end result. My home is as I had envisioned with the workmanship to a very high quality. I would recommend Hotondo Homes in Corowa to anyone wishing to build a quality home."
Judith
"We built our first home with Hotondo Homes in Corowa and found the whole team very approachable. Thank you Frank, Sandra, David and Jenny for your help with everything and professional services. It goes without saying that we absolutely love the house! More than that, we appreciate all of the time and effort you put into working with us through the process. We would certainly recommend and build with Hotondo Homes again without hesitation."
Grace
"From the moment I walked into Frank and Sandra's office, I knew I had made the right decision. They took away all the anxiety to building my new home. The team from Hotondo Homes Wangaratta stepped me through the whole process of demolishing my old home and building a new one. Nothing was ever too much trouble and if I had any questions about the process, they were only too happy to answer my queries. I was always kept up to date with the process of my new home. Thank you Frank and Sandra for my beautiful new home!"
Mcdonald
"Nothing was a problem with this build! I had tradesmen on site almost every day throughout construction with constant updates from Frank, Sandra and David, letting me know which trade was coming next, on what day and what work would be carried out by them. When initially considering the design, Frank spent significant time explaining where improvements could be made with minimal expense if any. Sandra assisted my partner putting together a magnificent colour scheme which to be honest, I had doubts. The finished product put all doubt to rest! Perfect! It should be stated this project was done purely as an investment so the reality is 'time is money'. I don't believe this house could have been built any faster than it was. In saying that, quality was not compromised. When next I build, I won't be wasting any time shopping around. I'll be going straight back to the team at F & S Miccio!"
Morris
"Our experience with Frank and Sandra of Hotondo homes has been nothing short of exceptional! They have been professional, timely and honest throughout the whole process. Their advice and guidance was greatly appreciated by us as first time home builders. We have no hesitation in recommending Frank and Sandra to anyone wanting to build a quality new home. Thank you!"
Geoff
"We can't praise the team at Hotondo Homes Corowa more, and are extremely happy with the home that has been presented to us. We wanted our own design to utilise the views, and the service we received was exceptional! Nothing was a problem and the communication throughout the project was fantastic. Frank and Sandra were always ready to offer a solution or advice when needed, and Jen and Kim put up with my constant design changes with a smile every time! Thank you again for making us feel welcome to the area and presenting us with a house we can be proud to call home until our old age."
Dana
"In mid-2014 I made my first appointment to see Sandra about building a new home. We discussed things like budget, where I wanted to build, what size I wanted the house and the home layout. I found the ideal block all thanks to Frank and Sandra looking for me, they also managed to get it held until I got a loan approved. The loan took me five months and throughout the time of applications and rejections, Sandra kept checking in with me making sure I was ok and telling me not to worry. She really was a great support and made everything a little easier. When the loan was finally approved, we had the fun job of doing the colour selections! Sandra gracefully put up with me and a couple of friends who came to help me decide. I was set on having this gorgeous red splash back in my kitchen and at the tillers we struggled to find the perfect one, but Sandra knew what I was talking about and although it was out of my budget she said it would be a house warming from her and frank. When the house finally started to go up Frank and Sandra were open and honest about things that would occur and kept me in the loop at all times. They encouraged me to come onto the building site, take photos and look at what was happening to make sure I was happy. When it finally came time to receive my keys, I had both Frank and Sandra there having a final look with me and welcome me to my new house. I chose to go with Frank and Sandra because of a friend's recommendation, and now I would recommend them to anyone in the area thinking of building. I am 23 years old and throughout the process they both treated me as an adult, included me in everything and were so good about all the whole process."
Sanders
"I recently built my first home with Hotondo Homes in Corowa. Frank and Sandra helped me find a block of land suitable for my project. They are honest and easy to work with, allowing me to alter plans to create a design that was best suited to my requirements and budget. Their friendly and professional team provided exceptional service in all areas, which made my building experience stress-free and enjoyable. While ideal for my project, the site provided some challenges throughout the build, which was well managed to reduce delays and resulted in my home being handed over ahead of schedule. All trades did a fantastic job, the end result being a top quality home which is modern and affordable. I am extremely happy with my new home and have no hesitation in building with them again in the future. I would highly recommend Hotondo Homes Corowa to anyone wanting to build in the area."
Harrison