Craig & Martin Keogh
New Home Builders Wagga Wagga and surrounds
Brothers Craig and Marty Keogh know how to build quality homes. With over 20 years' experience in construction, they've built some of Wagga Wagga's best houses.
Servicing both Wagga Wagga and the surrounding areas of Gobbagombalin, Collingullie and Forest Hill, Craig and Martin are your professional building team. No matter your lifestyle, budget or family size, these two can build you the perfect new home solution. With both single and two storey homes on offer, they are Wagga Wagga's local home builders. Specialising in building on
( more )
Contact Details
Phone


1800 677 156

Enquire Today
Click Here
Address
35 Paradise Drive, Wagga Wagga NSW 2650
(see map)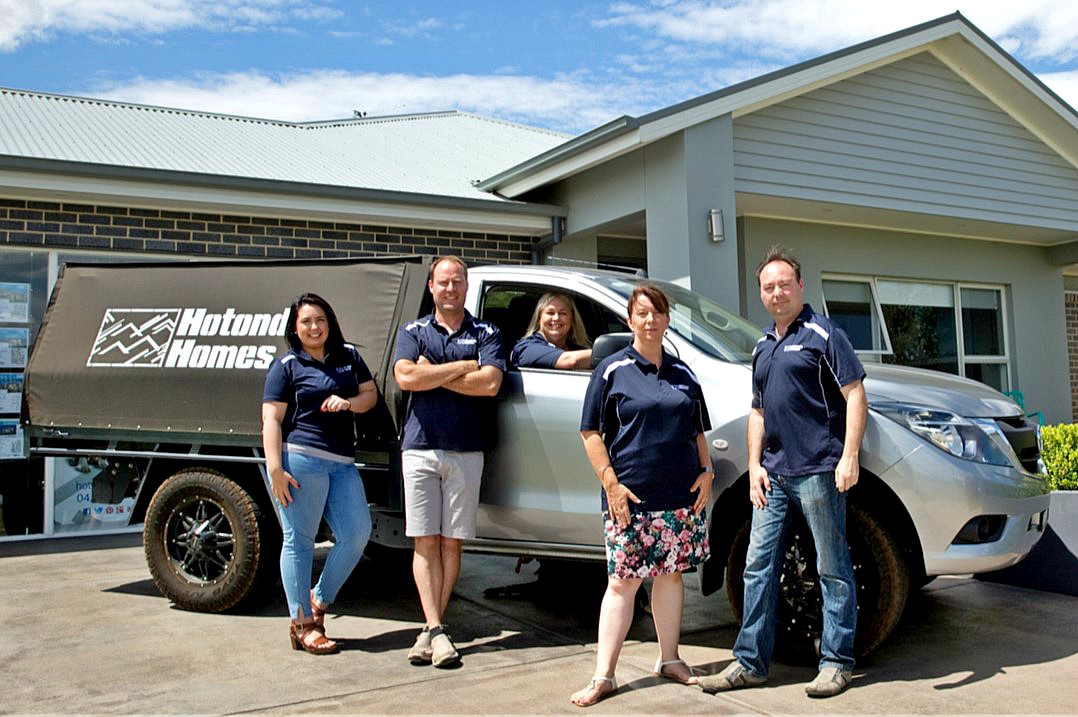 Credentials
Service Region:
New Home Builders Wagga Wagga and surrounds
Company Name:
Structure Building Pty Ltd

ABN:
71 156 264 032

Licence:
264900C
Newsletter
Testimonials
"All of the staff at Hotondo Homes in Wagga Wagga were wonderful. Very well built home, fairly priced and attention to detail was great. I am very satisfied and would definitely build with them again."
Brad
"Building with Hotondo Homes in Wagga Wagga has been the best decision we have made. Nothing was too much trouble for Marty, Craig and their team. We threw them a few challenging requests, but these wonderful people took the challenge and absolutely smashed it out of the ball park. We are completely in love with our new home and it's everything we wanted and more. Marty kept us updated every step of the way and explained everything so well. After building with these guys, if we choose to do it all over again, we would definitely not hesitate to build with them again."
Jarred and Tara
"We built our first home with Hotondo Homes in Wagga Wagga and from start to finish they have been absolutely fantastic. All the staff members from builders, admin, and design to accounts were down to earth and spoke our language. We had people commenting saying "building your first home must be stressful!" but we can honestly say it has been completely enjoyable and not stressful at all. Hotondo Homes in Wagga Wagga met all our needs and wants and exceeded expectations. We have so many positive comments on the quality design and build of our home. Once all our selections were made we felt confident enough to leave it in their hands and not feel the need to check on anything. The office staff Kristy, Alisia and Skye were brilliant! They walked us through the process and were an absolute pleasure to communicate and do business with. Craig and Marty's professionalism and attention to detail were second to none. We LOVE our new home and would not build with anyone else. We highly recommend Hotondo Homes in Wagga Wagga. We honestly do not have anything to fault as the entire experience has been fantastic. Every suggestion and question was taken seriously and actioned almost immediately. You hear so many horror stories of first built homes but we feel like we struck gold and got so lucky. We felt like valued customers and people the whole process, and were given a personalised welcome package. Due to the nature of our work commitments we had a time constraint and even under pressure, the house was handed over in excellent condition. We cannot thank the Hotondo Homes in Wagga Wagga team enough and I could write all day about the wonderful experience we had! Thank you, thank you, thank you! Every person from Hotondo Homes in Wagga Wagga are fantastic and genuinely great people."
Sarah
"Hotondo Homes in Wagga were extremely good to deal with; great communication and quality products. A great building experience thanks to the professionalism of the team Kristy, Marty and Craig."
Patrick
"Cannot speak highly enough of the Hotondo Homes in Wagga team. From day one, they've been fantastic, with Craig and Kristy on the design and decor of the house and Marty with the build. The interior and exterior finish is excellent and I would recommend Hotondo Homes in Wagga to anyone planning to build a new home!"
Ray
"Our experience with the Hotondo Homes team in Wagga Wagga team was outstanding. The entire team are incredibly knowledgeable in everything they do, are fantastic at communicating, and kept us updated during the entire building process from beginning to end. They took their time to explain everything in detail, talking us through our options, and answering our never ending supply of questions. Our new house is perfect and suits our needs 100%. We would not change a single thing. We cannot recommend the team at Hotondo Homes Wagga Wagga highly enough. Great job Marty, Kristy, Craig and Sara. Thank you ever so much for everything you have done for us in building our new home!"
Gill
"We loved our experience building with Hotondo Homes. From start to finish the process was easy and we felt like everyone at hotondo wagga was invested in ensuring we received the best possible home to suits our needs! Nothing was ever a problem and they were always available to help through any decisions often going above and beyond what was required! The team was friendly and all had a extensive knowledge base of all the products and how to best utilise our land and what would suit the block best. We could only meet after normal business hours and they were more than accommodating to work with us and our family. We feel like we received a high quality home in timely manner and would definitely recommend them or be repeat customers!"
Joel
"We visited the display home at Berwick Waters to confirm our decision to build the Erskine 290. We knew of Craig and Martin from previous work they had done for our daughter. They proved to be solid and dependable builders. All stages of the build were straight forward and any problems were sorted quickly. We are very happy with our new house and would have no hesitation in recommending them to any prospective customer. "
Gifford