The Story
Selecting the Perfect Benchtop with Laminex
Laminex knows how important it is to select a benchtop that reflects not only your sense of style and suits the overall look and feel of your home, but one that is durable and will stand the test of time as well. With that in mind, they have a range of benchtop options for you to choose from in different finishes so you're sure to find one that suits your new home.
Laminate Benchtops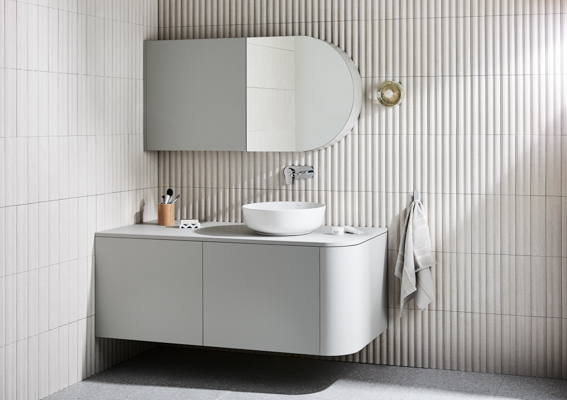 If you opt for laminate benchtops, there are a range of options available to suit your needs and budget. Multipurpose Compact Laminate is a highly resilient material that's thick, self-supporting and suitable for a variety of internal uses. It's extremely scratch, wear, stain, moisture, and impact resistant while still retaining a beautiful appearance, making it ideal for high-use spaces such as kitchen benches and islands, and butler's pantry spaces.



A popular choice for many years, Laminex Laminate Benchtops are an incredibly hardwearing and visually stunning surface material perfect for the modern Australian home. Sustainably sourced and offering a beautiful decorative surface, the Laminex Colour Collection includes an array of colours and textures that have been specifically created for Australian design preferences and trends. Cost-effective and easy for cabinet makers to work with, the installation costs are often less than other materials. Designed with longevity in mind, laminate is resistant to impacts, scratches and stains, as well as UV light so it won't fade. A popular choice for many homeowners, laminate benchtops are a versatile and reliable choice for any new home.
HI-MACS Acrylic Solid Surface Benchtops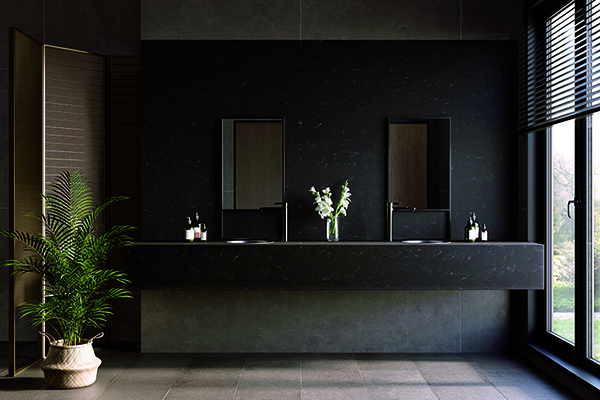 HI-MACS is smooth to the touch, non-porous and visually seamless. Made from a combination of acrylic, minerals, and natural pigments, it's almost as robust as stone, yet it can be sawn, routed, and drilled using conventional carpentry tools. Uniquely suited to use in wet areas, its surface is also dirt and stain-repellant, hygienic and resistant to chemicals, making it particularly good in kitchen, laundry, and bathroom spaces.
While more expensive than laminate due to material composition and capabilities, the fabrication and installation of HI-MACS makes it a durable choice for a benchtop. Carefully designed to suit Australian design requirements, the range of beautiful marble-look colours, textural concretes, a broad selection of whites and neutrals, and bold colours means that you can find a statement hue to suit the aesthetic of your new home.
Essastone Engineered Stone Benchtops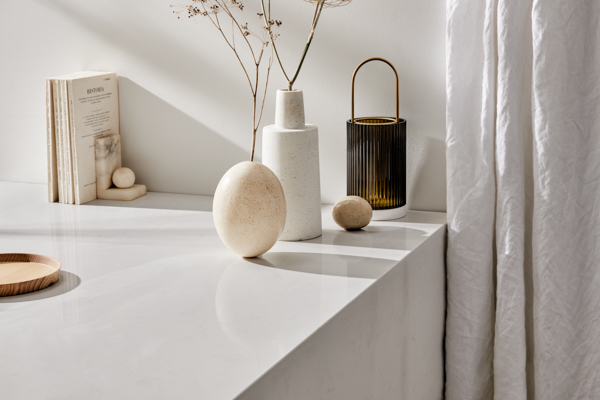 Essastone is a high-quality engineered stone made from a mix of ground natural quartz and technologically advanced resin that delivers a durable, non-porous material ideal for benchtops. Designed in a range of styles including luxurious veined marbles, subtle and bold aggregates, and industrial style concretes, Essastone is a great option for those wanting to add sophisticated luxury to their home.

Perfect for use in wet areas and high-use spaces such as kitchens, bathrooms and laundries, Essastone doesn't require sealing or special cleaning products, as well as being heat and scratch resistant. While Essastone is more expensive than laminate, it's more affordable than using a natural stone or porcelain, making it a good option for those wanting stone benchtops without a hefty price tag. Laminex have also structured their Essastone range into five tiers, so you have a range of options to choose from depending on your budget.
To learn more about the range of benchtop finishes available for your new home, head over to the Laminex website today. As part of the colour selections process, Hotondo Homes builders and their teams are well versed in the Laminex range and can guide you through the designs and finishes available so that you can find something that's durable, stylish and perfect for your new Hotondo Home.