Trent Allen
New Home Builders Inverloch, Leongatha and surrounds
If you're looking to build your dream home, Trent & Caroline can make it happen.
As your local new home builders, Trent, Caroline and their team provide quality building services to Inverloch and surrounding areas, including Leongatha, Korumburra, Wonthaggi and Venus Bay. Whether you are looking to build a single or double storey home, Hotondo Homes Inverloch have a design for you. They have a broad range of designs to suit your individual lifestyle requirements and budget, ensuring you can
( more )
Contact Details
Phone


1800 677 156

Enquire Today
Click Here
Address
Shop 2 Ramsey Boulevard, Inverloch VIC 3996
(see map)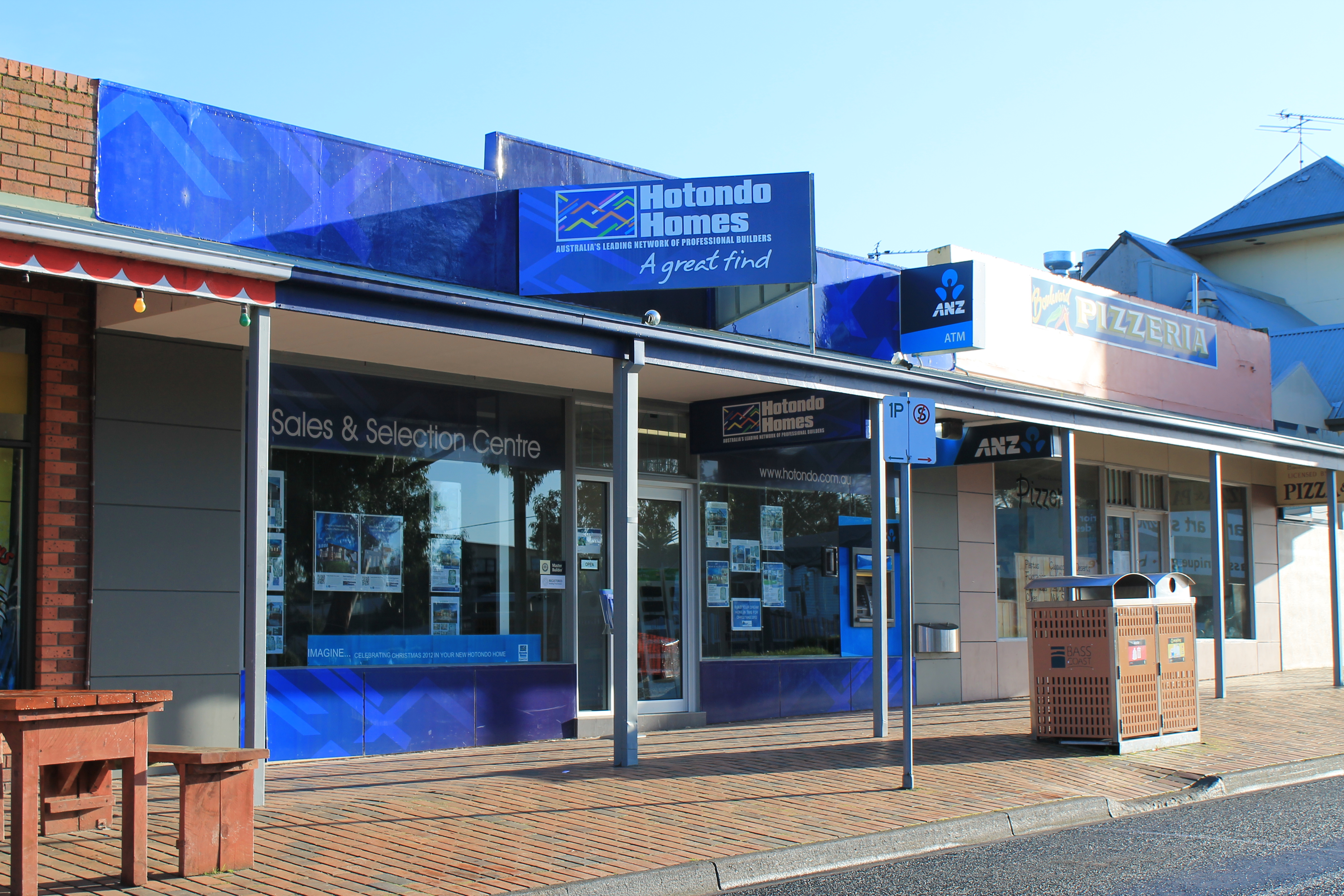 Credentials
Service Region:
New Home Builders Inverloch, Leongatha and surrounds
Company Name:
Hotondo Homes Inverloch Pty Ltd
Reg. Building name:
Hotondo Homes Inverloch Pty Ltd
Company Reg. no:
CDB-U 51609

ABN:
19 130 941 141

Licence:
DB-U 22140
Newsletter
Testimonials
"Building with Hotondo Homes Inverloch was fabulous. From start to finish, Trent and Caroline were honest, open and extremely helpful. They did exactly what they said they would do, when they said they would do it. There were no unexpected extras at all and not even one disagreement. Caroline and Trent were very flexible with our meeting times and Caroline was fantastic with colour selections. During the build Trent allowed us to look over the house regularly and the tradesman we met were always friendly. We have been in our house now for over two months and there is not a single defect. We can't recommend Hotondo Homes Inverloch highly enough - top quality."
Whiteman
"We are very happy with the quality build of our home. Everything that was not quite right was attended to immediately. Caroline Allen is a great asset to Hotondo Homes Inverloch and we thank her for all her attention to detail, along with helping with the selection of tiles, paint colours etc. Thanks a lot Hotondo Homes Inverloch."
Frank
"Our journey is best described as an excellent process from initial enquiry to handover. In some ways I guess you could say that we are not your usual client, we built to sell, to promote the subdivision and to show prospective purchasers of the other lots just what the end result of having to meet the Bushfire requirements would look like. We complement Trent and Caroline on the house that they have constructed, on time, on cost and throughout the build a clean and tidy site. I will and have recommended them to prospective clients."
Greg
"My experience with Trent and Caroline from Hotondo Homes Inverloch has been nothing but outstanding! With their extremely helpful knowledge, care and quality craftsmanship my first home has been a privilege. I can't thank them enough for making my dream come true and I highly recommend them to anyone looking to build to go no further than these wonderful builders."
Sinclair
"Putting your faith into building a home is quite terrifying as you are putting all of your trust and money into something that you hope will end well. We were not disappointed! Hotondo Homes Inverloch are the most personable and professional people we have dealt with. Trent, Caroline and Geoff turned our block of land into a beautifully built home. The workmanship is first class. Could not be happier."
Snelling
"Starting from the very beginning we met Caroline at a new Hotondo Home in Inverloch and were immediately impressed by her warmth and professionalism. After looking at homes other builders had opened for inspection, we decided to call into the Hotondo Inverloch office; and it was there our amazingly stress-free journey into our new home started. Previously during our 48 years of marriage we had built two homes and in neither case did we have a good experience. This time however each step of our new Hotondo Home was enjoyable. Trent could not have been more helpful and his meticulous attention to detail meant nothing was overlooked. His crew of tradespeople under the watchful eye the Supervisor Jeff ensured the house and site remained amazingly clean throughout the build. We also had a full day with Caroline who, with her sound knowledge of colour and design, gave us confidence in our choices of appliances and design. We would without hesitation or reservation recommend Trent and Caroline Allen and their staff of Hotondo Homes Inverloch to anyone looking to build."
Bartlett
"From my initial contact at Hotondo Homes Inverloch with just a very casual rebuild inquiry- I felt comfortable and at ease with Trent. I was not rushed and he gave me all the time I needed with the questions I had ,and I left the office confident, with lots of information and new house brochures to peruse. I felt no need to look any further and decided to proceed As a senior,on my own, nonlocal female and a first time builder ,the staff went out of their way to investigate and accommodate my requests,make suggestions and address any of my concerns. I moved walls,rooms and changed their sizes,doors, windows all over the house from the original plans and even changed some of the building materials. Caroline was brilliant with her colourboard,suggestions and guidance-nothing seemed too much trouble. Being able to see the the total colour scheme inside and out, along with some of the materials used and photos of all the appliances etc. was great. It was exciting to see my plans come together I did not have to visit the office to sign contracts,Trent made a special trip to Melbourne to do so. From Trent trying to "onsell" the old house for me and then from knockdown to handover was just over 6 months and I was kept informed on progress of the build with regular emails and photos[ which are now in an album ] and my occasional visit to the site- The finished house is brilliant for my family needs and is all that I had hoped for without breaking the bank ,and without compromise of quality and standards A million thanks Trent, Caroline & Staff- I love my new home!"
Christine
"I was completely satisfied with the Hotondo house that Trent and Caroline built for me. The process ran like clockwork from getting the plans passed by council to groundwork through to building and finishing. The standard of the work was excellent and the local trades people did a wonderful job and were obliging and easy to get along with. Caroline was very knowledgeable in guiding me through decorating choices as Trent was in making building decisions. Every effort was made to make sure that my requirements and taste was included in the build. I received regular updates and any queries I had were resolved quickly. I would have no hesitation in recommending Hotondo Inverloch to anyone wishing to build a home. Sue Thompson"
Sue
"We built our dream home with Karoline and Trent from Hotondo Homes Inverloch. They were very professional and met all of our needs. The quality of our home is first class, they understood our vision and worked with us to achieve it! Myself, my wife and our two young boys are very happy in our new home at Cape Paterson."
Tom